Lighting Cameraman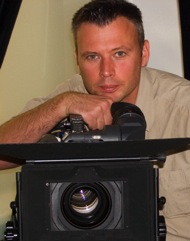 MgA. Jiri Zeiner


Lives in Prague, Czech Republic, Europe
Shooting: worldwide
Cellular phone: +420 775 600 230
E-mail:
jiri@cameraman.cz
www.cameraman.cz
PROFESSIONAL EXPERIENCE:
More than 20 years experience in narrative filmmaking, documentaries and commercials.
Shooting in many countries in Europe as well as in USA, Canada, Middle East and North Africa.
My favorite style is the natural soft light with details in deeper shadows.
Result of my work can be watched on major TV channels. BBC, NBC, CNN, ARD, StarZ, NHK ...

Jiri Zeiner's film production company
Fairfilm
produce and coproduce TV documentaries, commercials, corporate videos and multimedia presentations.

EDUCATION:
1990-96 Academy of Performing Art Prague (FAMU)
Master degree at Camera department.
1999 U.C.L.A – short term study stay.


SPECIAL SKILLS:
Camera FX incl. time laps, blue-greenscreen etc.
2D computer graphic and multilayer VFX composition.
Scuba diving licence CMAS, driving licence B.



LANGUAGES:
Czech mothertongue, English fluent, Slovak fluent




DIRECTOR OF PHOTOGRAPHY CREDITS:
SELECTED NARRATIVE MOVIES

The Voices
Feature lenght movie, S16 mm to 35 mm, dir: Pablo Alvarez Ortis (Spain)


ΘΟΛΟ ΠΟΤΑΜΙ (Turbid River)

23 min, 16 mm, dir: Stratoula Theodorathu (Hellas)

Eternity starts here

30 min, 16 mm, dir: Joerg Kalt (Austria)


Nomen nudum

26 min, 35 mm, dir: Yannis Mouhasiris (SF, CA, USA)

Home from Cards
30 min, 16 mm, dir: Matt Kaden (BO, MA, USA)


Code Name: Ruby

80 min, 35 mm feature length psychological Sci-Fi (Cameraman of second camera unit)
dir: Jan Nemec (Czech Republic)


Mezicas
(Inbetween Time)
20 min, 35 mm. dir: Karel Koula (Czech Republic)


Cosi fan Tutti

20 min, 35 mm. dir: Karel Koula (Czech Republic)


Samota (wilderness)

15 min, 35 mm. dir: Miky Burger (Slovenia)


Dívka se zázračnou pamětí (Girl with marvelous memory)
40 min, TV studio multicamera. dir: Ondrej Kepka (Czech Republic)

Nesmrtelná teta (Immortal Aunt)

100 min, 35 mm, feature length fairy tale
(Cameraman of 2nd camera unit and Loader), (Czech Republic)


Síť (The Net)

25 min, 16 mm (director and cameraman), (Czech Republic)




SELECTED DOCUMENTARIES

Egyptians
one hour documentary about live of contemporary and ancient Egyptians (Czech TV)


Among Blind fulls

3 times 50 min, shot worlwide, 16 mm (worldwide distribution)
(winner of "Kristian" (Critic price) 1999 and "Trilobit" Price of FITES)


Art nouveau Alfons Mucha
together with DP Marek Jicha TV (BBC)


My country, my passion
30 min, Betacam, P. O. Spidlen – violinmaker (NHK Japan)

Czech alternativ music scene and Ivan Kral
5 min, Betacam (MTV England)


Integrator

15 min, HDV - DVD how to get job in United Kingdom


Kosmopolis

28 min, Betacam, weekly serial about people living different (Czech TV)


Making of My giant

20 min, Betacam (worldwide distribution)
Making of Blade 2

10 min, Betacam (StarZ)
Making of Mist of Avalon

20 min, Betacam (worldwide distribution)


Dance Praha 2001

20 min TV (Czech TV)

Performance Dum u Zvonu
5 min, 16 mm

Kolik visni tolik pisti
15 min, 16 mm

Azra
15 min, Betacam (Czech TV)

The Black triangle
6 min, 16 mm (Canadien production)

Dies Irae
Mostecko 94, 3 min, 16 mm

Milevsko 92
30 min Betacam. abandoned garrison town of Russian army (ARD)

Cas na cloveka (Time For a Man)
20 min, 16 mm, last days of talended schizofrenic man (Czech TV)

Scientific truth of Alexej Drobny

20 min documentary fiction (Czech TV)


Chcete me (Do You Want me?)
20 min, weekly serial about pets (Czech TV)

Exhibitions of Academy of fine arts Prague

36 min

Much more various document project's for Czech television, ARD Germany, NHK Japan.
16 mm film, Betacam digital, HDV.




COMMERCIALS



Olympus, European Customer Support Centre

30 sec spot for Olympus Europe GMBH

Mercedes Benz Engineering

30 sec + 3 min presentation, Daimler Chrysler

Seat Collection 2000

20 spot + 3 min presentation, Wolkswagen Group

Skoda Favorit Praktik Car

30 sec, 16 mm


Magazine Tvorba

30 sec


Alice in the Wonderland

5 min, about Black light theatre Prague

OMV

Commercial spot for gasoline company

LEO

30 sec, Commercial spot


Vodka Archer`s

(2nd Camera unit) 30 sec, Super 16


Holiday on Ice

30 sec spot, 35 mm

Various corporate videos for Master foods, Ahold, Unilever, LL international California, Staropramen, STE etc.
Advertising photography for Unilever, EuroTel, Radiomobil, Renault etc.
Billboards, posters ... (Still photographer)



MULTIMEDIA PRESENTATIONS AND SCREENING FOR THEATRES

Multimedia Show: Why Radio?

Regie Radio Music. For advertising agencies. More than 10 video, slide and effects projections at the Planetarium Praha dome (director of presentation)


New Product presentation show: Dove - Organics - Lux - Axe

hotel City club Vienna (Austria) (director of multimedia part)


Marné tázání nebes
2D compositions and animations for screening in theathre performance dir: J.A. Pitínský Archa Theatre Prague


Dalibor

2D compositions VFX and animations for screening in theathre performance
dir: J.A. Pitinsky, National Theatre Prague


Family Estate

2D compositions and VFX for screening in theathre performance. Stavovské divadlo Praha

MUSIC VIDEOS

Kouzlo (Magic) - Wanastovy vjeci

4 min, 16 mm (winner of "Music video of the year" in Magazine Rock Report)

Stejne jako ja (Same Like Me) – Chinaski

3 min, 16 mm
Bludiste dni (The Labyrinth of The Days) – Vyber, Michael Kocab
3 min, 16 mm (also director)

Karya a Pavel Vitek

4 min, Betacam
Incest - Insane Fly
3 min DVCAM


Unavena (Tired) - Robert Opatovsky

3 min, 16 mm

Hlbocina (Deapness) - Ivana Christova

3 min, 16 mm with Miss of Czech republic (also director)